Description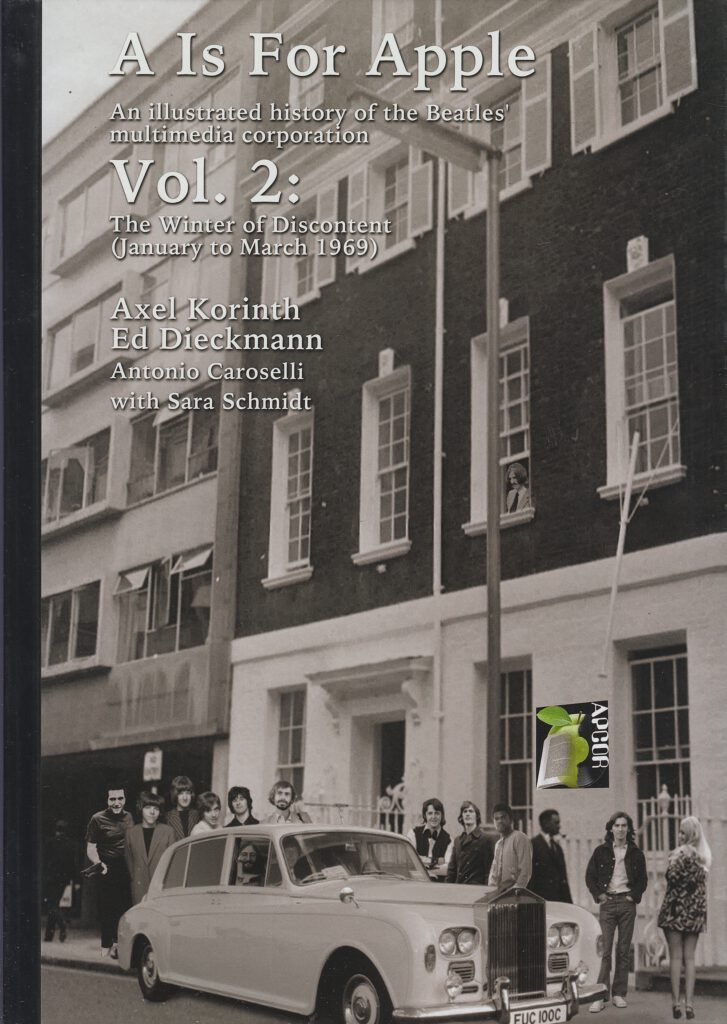 April 2017 – The winter of 1969 for the Beatles and Apple was, as George Harrison put it so aptly, a Winter of Discontent. The long sessions at Twickenham and later at Apple took their toll on the Beatles who were already slightly burned out from the White Album sessions the previous year. While Paul was the one to try and get something, anything together for the Beatles, the other three were not so gung ho anymore to go along with the Paul-instigated Beatles projects. George had just spent nearly a month in the USA, jamming with various musicians and having a great time, John was immersed in Yoko and a dependence on stuff somewhat stronger than a reefer while Ringo seemed to be more interested in his upcoming role in The Magic Christian movie. While the sessions lasted merely a month (Sgt. Pepper took nearly four months to make), so much happened that it would take a book to describe all what was going on. And that book is here. A Is For Apple Volume 2. But of course not only the so-called Get Back sessions 'happened' in January, or the following months. There was Mary Hopkin's Post Card album, as well as Jackie Lomax' Is This What You Want LP. Doris Troy and Billy Preston entered the scene at Apple. The Beatles' Yellow Submarine album hit the streets.
Volume 2 of A Is For Apple covers the Get Back sessions and Mary and Jackie's albums in great detail. The complete Yellow Submarine album takes up more than 60 pages by itself. Volume 2 covers the period of January to March 1969. And while everyone will know about these releases, maybe not in such great detail, Volume 2 also offers information on lesser known Apple acts from this timespan, such as John Surman, Mike Westbrook, Mike Cooper, the Misunderstood, Flamma Sherman, Stefan Grossman, Peter Cooper, Slow Dog and John Fitch.
Volume 2 has a chapter on Timothy Travel, a puppet series produced by Apple, which didn't get beyond a pilot episode and is more or less totally forgotten. Allan Klein's reign is just around the corner and John and Yoko are busy making their Rape movie. (White) Trash issue their superb Road To Nowhere single and Brute Force's King of Fuh is being picked up by George Harrison. Two Virgins gets its USA release and a four album pack of Beatles hits gets nixed before release. Bubble Puppy, Mary Jane Bann'd and Stone Down are all nearly signed by Apple while The Iveys go on national TV. John and Yoko stage their first Bed-In in Amsterdam and Paul records with The Fourmost. The amount of day-to-day activities related to Apple in these three months is astounding. All this is covered in great detail in Volume 2 of A Is For Apple.
Slow Dog were a band that won a talent contest organized by Apple in Cambridge and were destined to be signed by Apple. Why this didn't work out in the end is all revealed in A Is For Apple Volume 2. Four of the band's recordings made around the time of the contest have been included on an EP exclusive to this book, kindly donated to us by Dave Kelly from Slow Dog and it marks the first time these recordings have ever seen an official release! Like A Is For Apple Volume 1, which clocked in at 692 pages, Volume 2 is of a similar size with over 600 pages full of rare photos, documents and record labels and sleeves. You will find discographies on Billy Preston, Jackie Lomax and Doris Troy before they joined Apple. You will find images of every original disc the Beatles covered during the Get Back sessions. You will find detailed information and images of every Apple published and Apple related disc released during the first quarter of 1969. You will find a complete overview of every recording, be it audio or video, made during the Beatles' sessions at Twickenham and Apple.
A Is For Apple Volume 2 (ISBN 9 783000 556951) was issued in a limited edition of 800 copies. All copies come with a free EP with four Slow Dog recordings (Little Girl – Take Off c/w I Have No Answers – She's Got Love, Apcor 3). The first 500 copies of the book (now sold out) originally came with an extra 7″ vinyl single, containing recordings taken from Apple acetates (Jackie Lomax – The Millionaire c/w Grenville & Weston – Aeroplane, Apcor 4), but this has also been made available separately (see 7″ singles section).
Please note that we will ship to the address supplied to us by PayPal, so make sure your PayPal address is always updated! We can not be held responsible for shipping to an obsolete address if you have not updated it in your PayPal profile!
Additional information
| | |
| --- | --- |
| Weight | 5 kg |
| Dimensions | 30 × 8 × 28 cm |