Description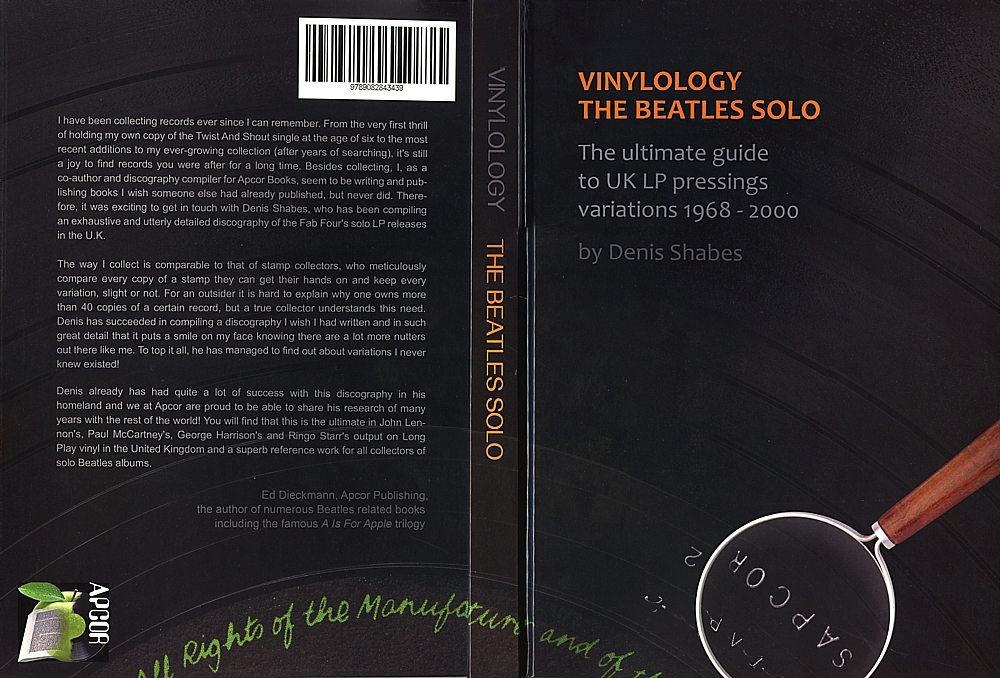 (ISBN 9 789082 843439)
October 2020 – VINYLOLOGY THE BEATLES SOLO: The Ultimate Guide to U.K. LP pressing variations 1968-2000.
The Beatles' U.K. album discography basically covers just seven sweet years (1963-1970, not counting the numerous compilations and archive editions released since), and has been analyzed in many publications. A lot of people tend to forget that since the split, the four members have kept making music and releasing records, which are being collected all over the world. Strangely enough, the U.K. album output by John, George, Paul and Ringo has never been documented properly in book form. Denis Shabes has compiled the ultimate guide to the solo Beatles U.K. LP pressing variations released since 1968. From John and Yoko's experimental Two Virgins to George's excellent Wonderwall Music and from Paul's The Family Way film soundtrack to Ringo's Sentimental Journey, each and every LP is discussed in great detail, & spiced up with hundreds of colour photographs. Every insert, inner sleeve and even hype sticker is included, as is information on matrix numbers, how to date the original inner sleeves, minor (and major!) label and sleeve variations: It's all in here! Every LP by John Lennon, Paul McCartney, Ringo Starr and George Harrison ever released in the U.K. on vinyl is included, including Paul's more or less experimental outings such as Thrillington and/or The Fireman and his orchestral works, plus the reissues on MFP and assorted labels. Not just the EMI/Apple years, but also their releases on labels such as Polydor, Dark Horse etc.
Apcor is proud to announce the release of this hardcover book which measures 21.5 x 30 cms, 332 glossy pages with more than 1,360 photos (!) and is stacked with detailed info on how to date a first pressing and recognize a reissue. Never before has the solo album discography been discussed in so much detail – the final word on JPGR's U.K. solo albums.
Please note that we will ship to the address supplied to us by PayPal, so make sure your PayPal address is always updated! We can not be held responsible for shipping to an obsolete address if you have not updated it in your PayPal profile!
Additional information
| | |
| --- | --- |
| Weight | 2 kg |
| Dimensions | 32 × 4 × 24 cm |