€8,00
Only 94 left in stock
Description
Apcor CD03 – LOVERS FROM THE SKY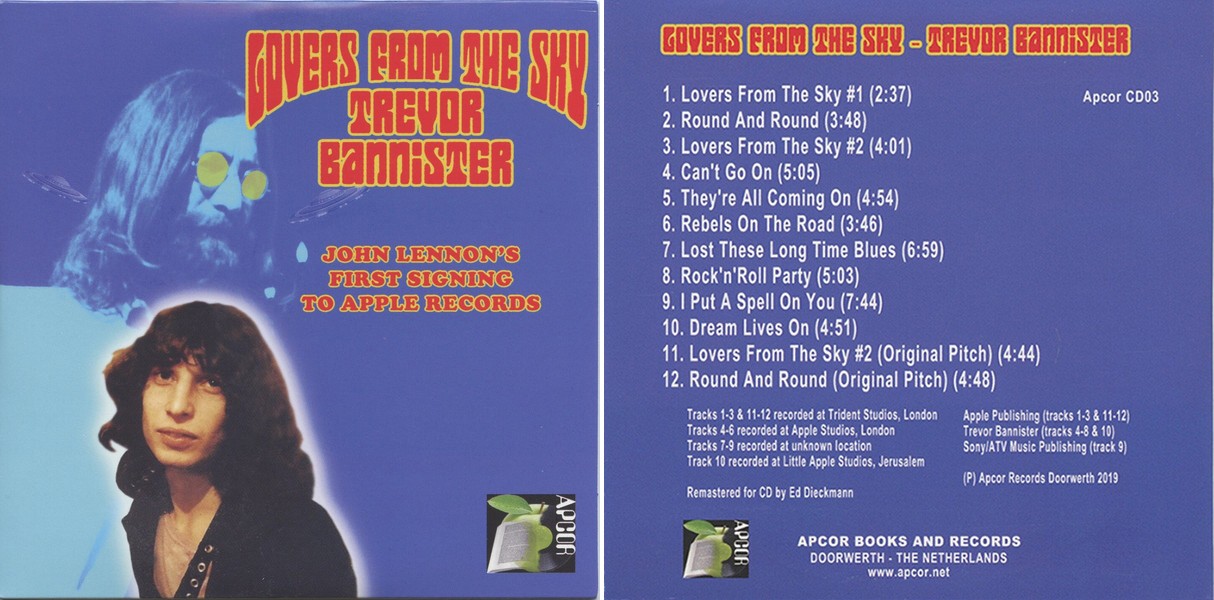 June 2019 – They say if you can remember the Sixties, you weren't really there. Well, this does not apply to Trevor Bannister. He was there and how he was there is what you can read in this book. Lovers From The Sky is a book about Trevor's acquaintances with The Beatles, The Rolling Stones, The Monkees and many other musicians of that exciting time. He connects those stories with political events, the wanderlust for unknown places soon to explode among the youth of Britain (and elsewhere), the emerging drug scene, interest in the inexplicable (UFOs) and the essence of Swinging London. It was obvious that we, Apcor Books and Records, had to publish Trevor's memoirs. Given the fact that he's a genuine former Apple Records artist only validated our decision. As luck would have it, Trevor also unearthed a few unreleased tracks from his Apple days and a little beyond. So who is Trevor Bannister you might well ask, since you certainly don't have a record of his in your Apple collection. Well, he was the second artist signed to Apple Records on 4 June 1968 (the first one being Jackie Lomax who signed his contract three days earlier). Lovers From The Sky and Around And Around, recorded at Trident Studios for his group Contact's debut, would have made a fantastic single for Apple Records and for all we know, it could have been "Our First Five" when the label was launched on 26 August 1968. But it was not to be and Contact's recordings remained in the can for decades.
The CD is also available as part of a book/CD combo Lovers From The Sky – A Personal Memoir From The 60s….and Beyond (ISBN 9 789082 843415). An edition of 400 copies, all hand-signed by Trevor Bannister, see book section. This listing is for the CD only!
Please note that we will ship to the address supplied to us by PayPal, so make sure your PayPal address is always updated! We can not be held responsible for shipping to an obsolete address if you have not updated it in your PayPal profile!
Additional information
| | |
| --- | --- |
| Weight | 0,09 kg |
| Dimensions | 12 × 1 × 12 cm |