Published on 3-10-2020

While John Lennon couldn't possibly have foreseen the outbreak of the COVID-19 virus and its effects on the world when he sang this forty years ago, these three words now seem prophetic. First and foremost, we at Apcor hope that all of our customers have come through these last few months untouched by the horrors of the pandemic and have stayed safe and healthy.
Unfortunately, the effects on global postal services have been rather devastating as we are sure you are aware. Items such as sound carriers and books are still regarded as 'non essential items' and are also being treated as such by postal services and customs all over the world. What used to be air postage has been relegated to sea postage and parcels nowadays can take up to two or three months before (and if at all!) they get delivered. Tracking parcels has become quite unreliable.
This means that in the last few months we have had to stop overseas shipping and basically shut down our entire operation. In the meantime, a new publication has arrived at Apcor HQ and despite the current conditions we would still like to present this, at least for now, to our European customers.
So please note: The book we are offering with this Newsletter (and indeed all our other products!) can only be ordered for shipping WITHIN EUROPE for the time being. As soon as PostNL (the company we ship with and are in almost daily contact with) informs us that overseas shipping is back to normal, we will inform everyone in our next Newsletter. We feel very sorry for this of course, but the risk of losing parcels or not being able to track them is too big for a small company like ours.
So what is that new publication?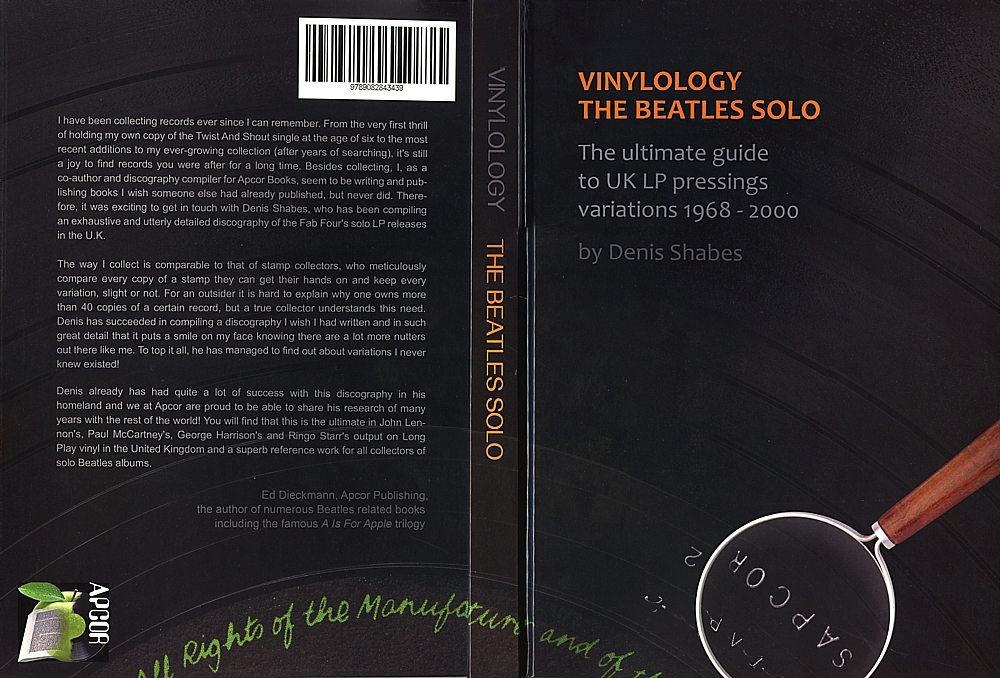 VINYLOLOGY THE BEATLES SOLO: The Ultimate Guide to U.K. LP pressing variations 1968-2000
The Beatles' U.K. album discography basically covers just seven sweet years (1963-1970, not counting the numerous compilations and archive editions released since), and has been analyzed in many publications. A lot of people tend to forget that since the split, the four members have kept making music and releasing records, which are being collected all over the world. Strangely enough, the U.K. album output by John, George, Paul and Ringo has never been documented properly in book form. Denis Shabes has compiled the ultimate guide to the solo Beatles U.K. LP pressing variations released since 1968. From John and Yoko's experimental Two Virgins to George's excellent Wonderwall Music and from Paul's The Family Way film soundtrack to Ringo's Sentimental Journey, each and every LP is discussed in great detail, & spiced up with hundreds of colour photographs. Every insert, inner sleeve and even hype sticker is included, as is information on matrix numbers, how to date the original inner sleeves, minor (and major!) label and sleeve variations: It's all in here! Every LP by John Lennon, Paul McCartney, Ringo Starr and George Harrison ever released in the U.K. on vinyl is included, including Paul's more or less experimental outings such as Thrillington and/or The Fireman and his orchestral works, plus the reissues on MFP and assorted labels. Not just the EMI/Apple years, but also their releases on labels such as Polydor, Dark Horse etc.
Apcor is proud to announce the release of this hardcover book which measures 21.5 x 30 cms, 332 glossy pages with more than 1,360 photos (!) and is stacked with detailed info on how to date a first pressing and recognize a reissue. Never before has the solo album discography been discussed in so much detail – the final word on JPGR's U.K. solo albums.
The book retails at 40 Euros (excluding postage) and is now available from Apcor Books for immediate shipping. Head on over to the books section, where copies can be ordered. For the time being we can only accept orders for shipping within Europe. Hopefully the COVID pandemic effects on global postal services will have been minimized in the foreseeable future, so we can start shipping overseas as well. We'll keep you posted!
For now, stay safe and healthy!