23 June 2021 – Reviews for The Beatles Mach Schau In Hamburg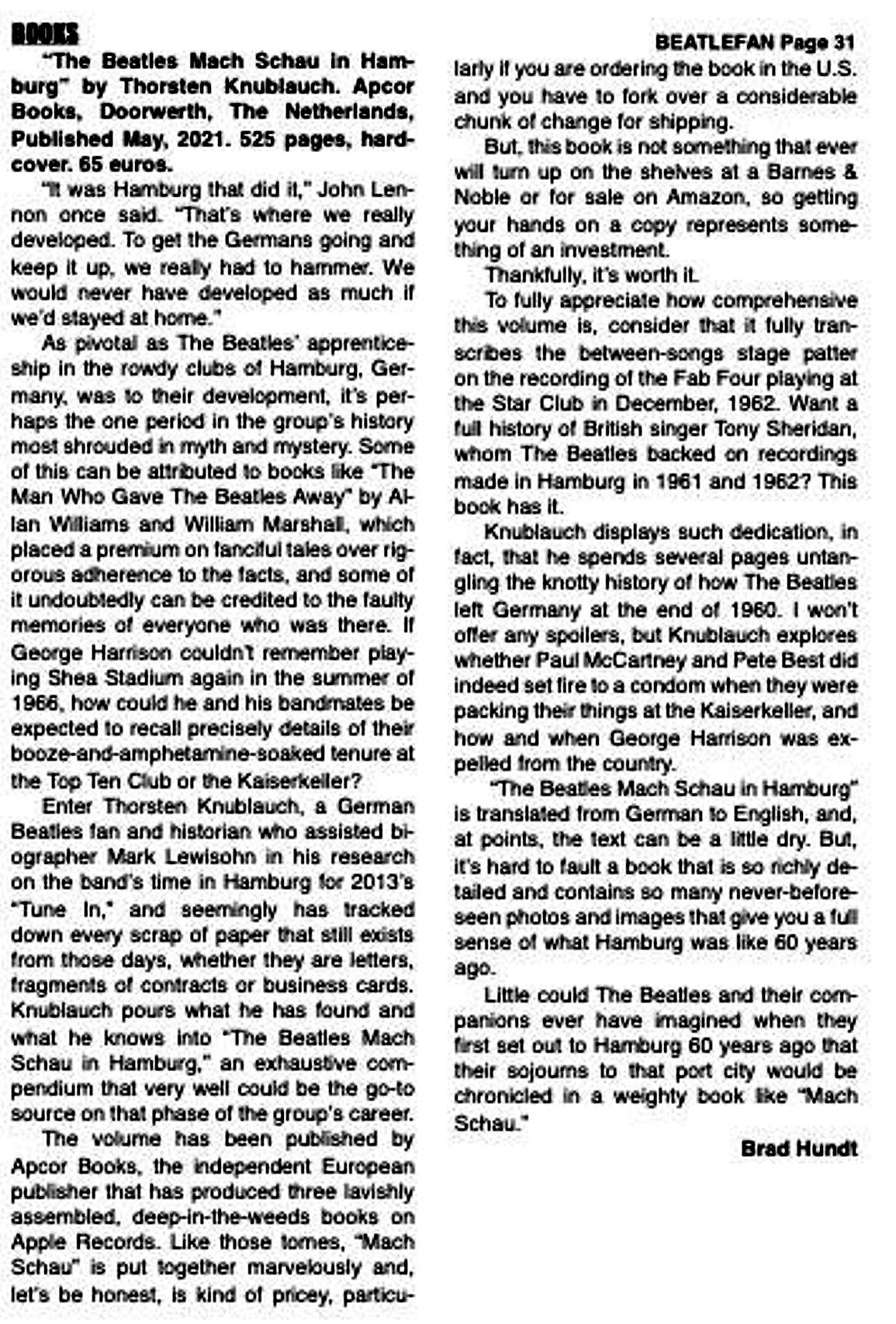 Beatlefan #250, USA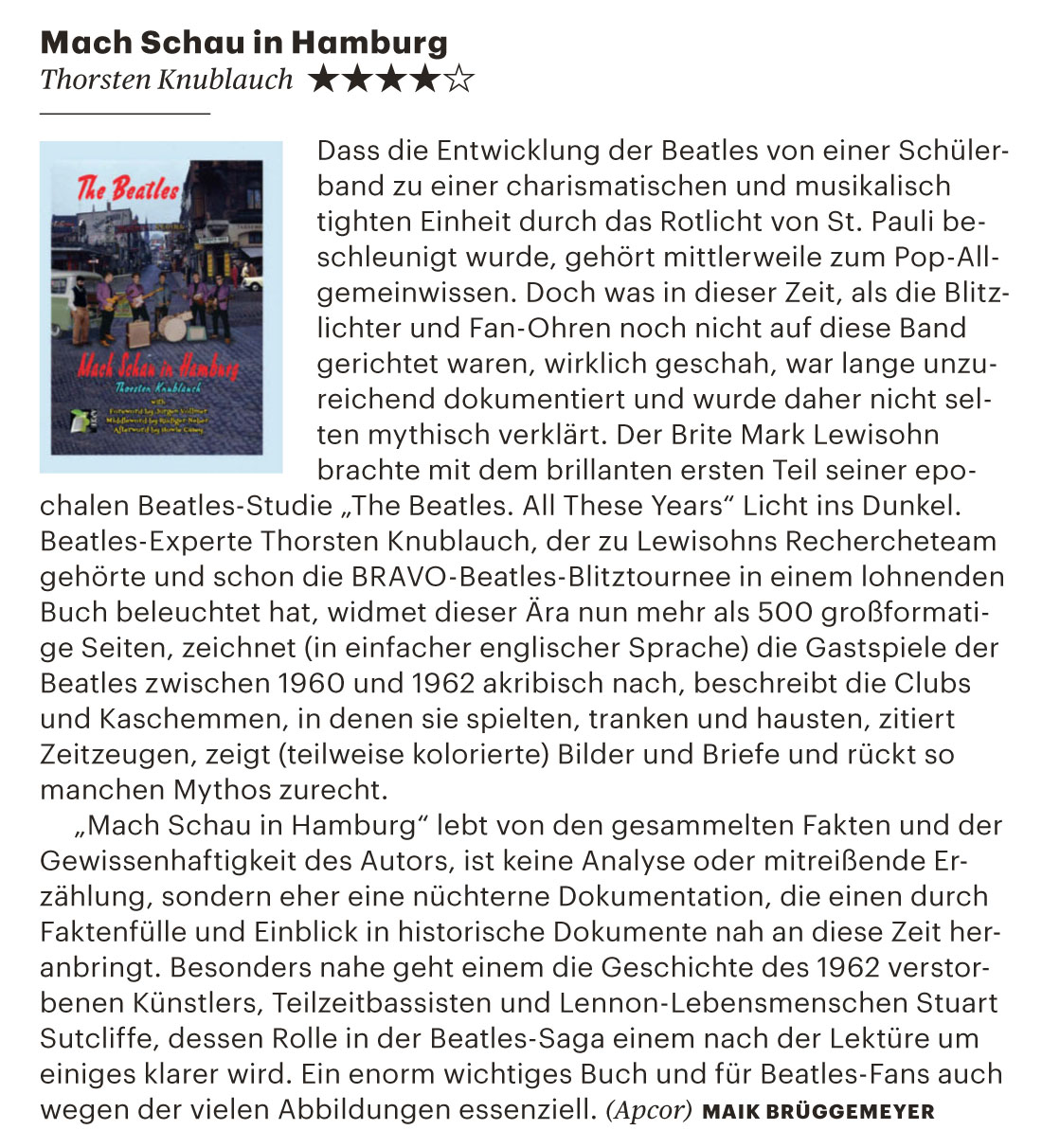 German edition of Rolling Stone, July 2021
English translation:
That the Beatles developed from a school band to a charismatic and musical tight unit accelerated by the red lights of St. Pauli has become part of general pop knowledge. But what really happened at a time when the band wasn't yet in the spotlight and the hearts of the fans, has been documented very poorly for a long time and many myths were formed. The Briton Mark Lewisohn brought some light in the dark with the brilliant first part of his epochal Beatles study "The Beatles: All These Years".
Beatles expert Thorsten Knublauch, who is part of Lewisohn's research team and who already covered the BRAVO Beatles Blitz tour in an exhaustive book, has now devoted more than 500 pages in a large format book to this era and has meticulously researched (in simple English) the Beatles' performances between 1960 and 1962, describing the clubs and pubs in which they played, drank and lived, has cited contemporary witnesses and shows (partly colorized) pictures and letters and documents that set the record straight.
"Mach Schau in Hamburg" comprises of the collected facts and the knowledge of the author and may not be an analysis or a stirring narrative, but rather a sober documentation that gets you through an abundance of facts and insight into rare documents that relive this era. Of particular interest is the story of the man who died in 1962, artist, part-time bass player and close friend of Lennon, Stuart Sutcliffe, whose role in the Beatles saga becomes somewhat clearer after reading.
An enormously important book for Beatles fans, and essential not least on account of the many illustrations.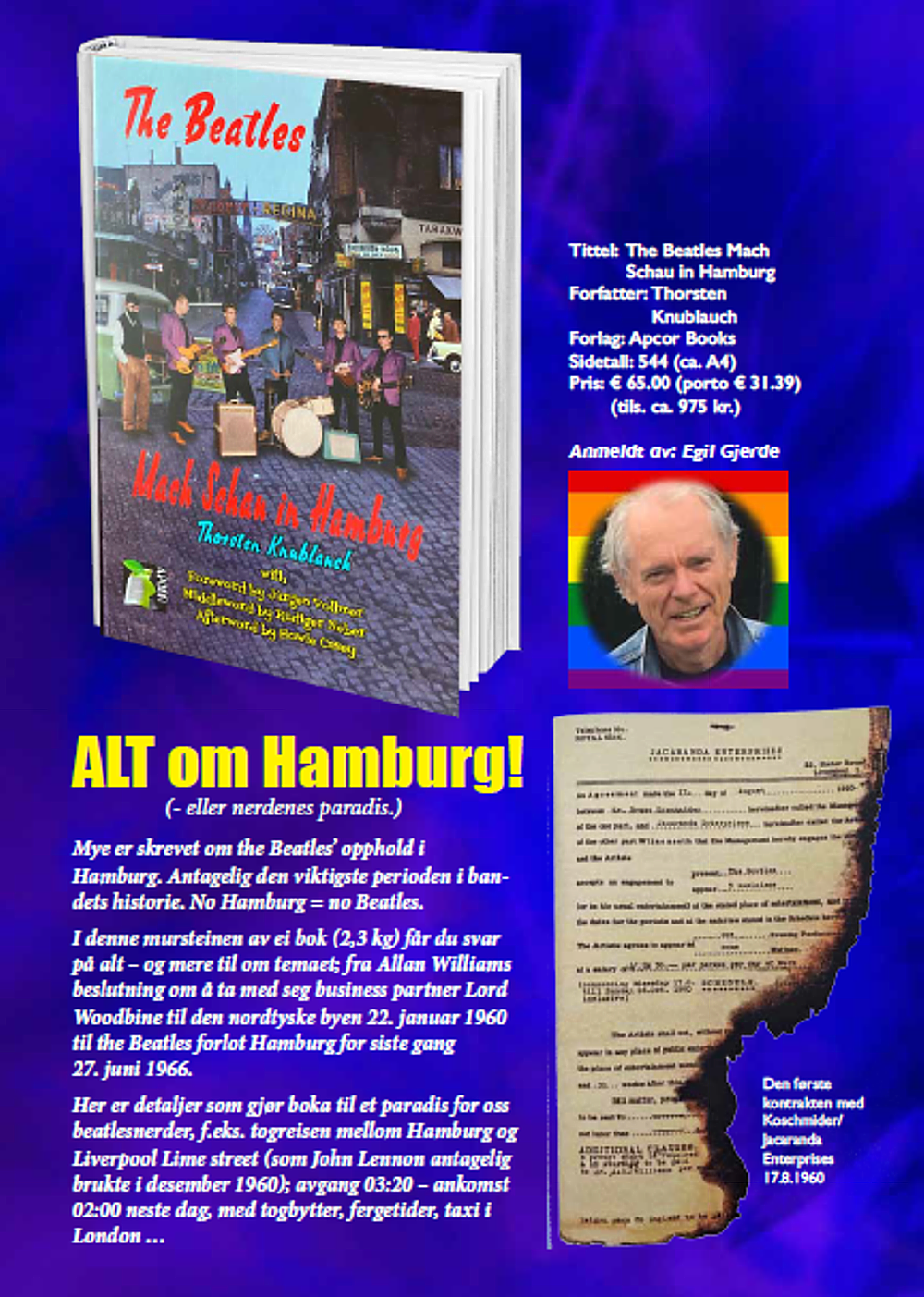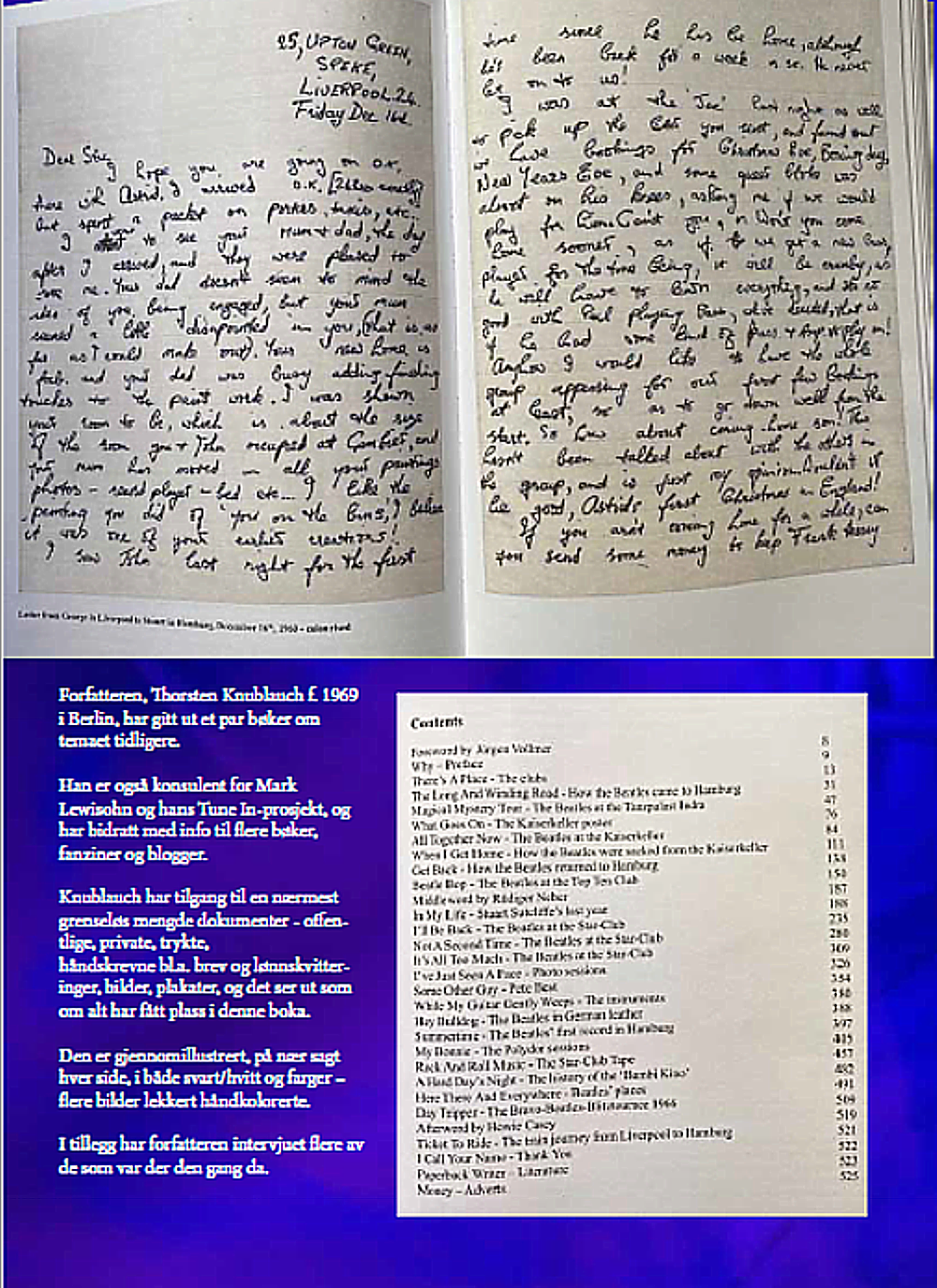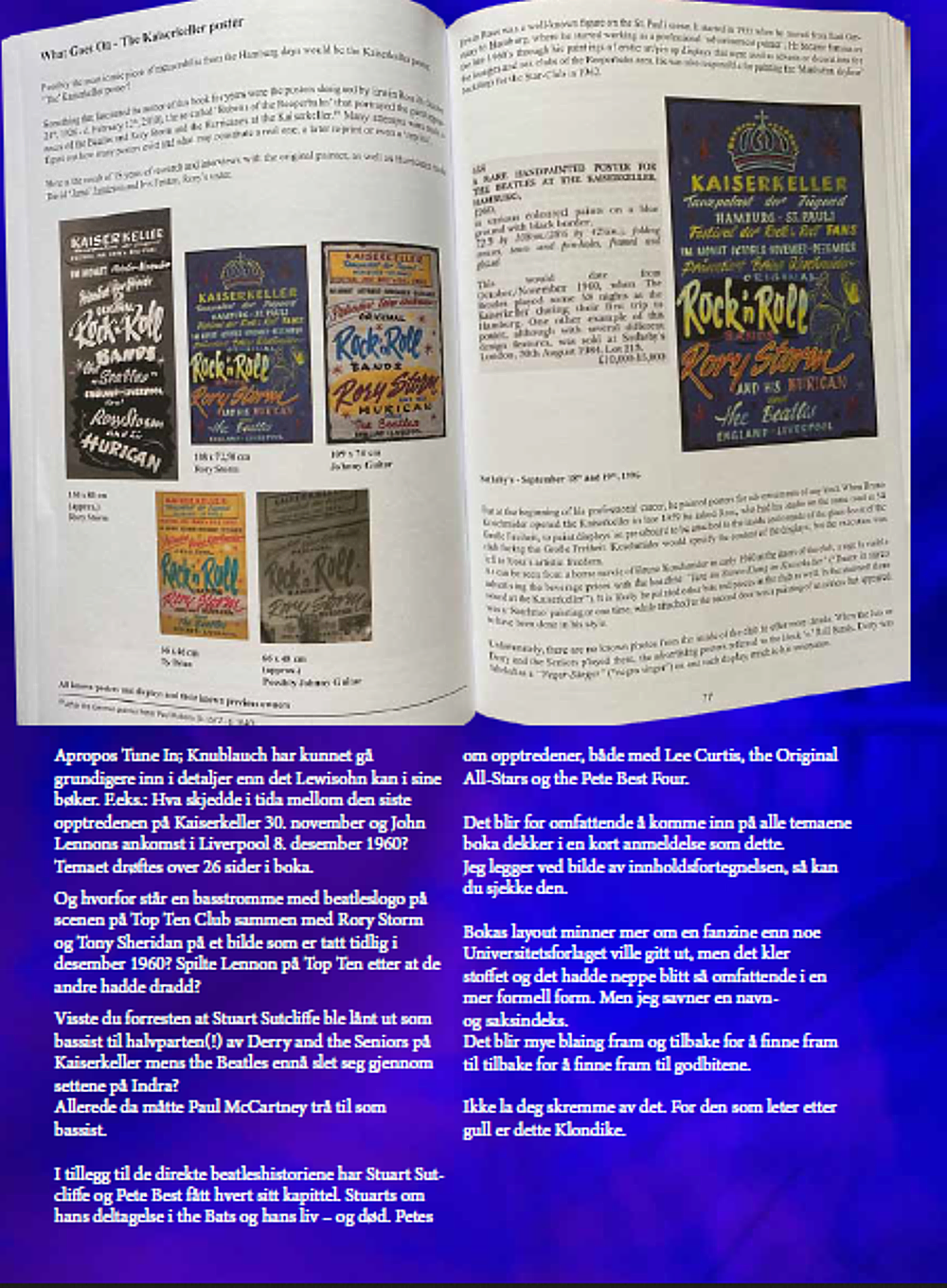 "Norwegian Wood" #165 (Norwegian Beatles fanzine)
English translation:
EVERYTHING about Hamburg! (or: the nerds' paradise)
Much has been written about the Beatles' stay in Hamburg. Probably the most important period in the band's history. No Hamburg = no Beatles. In this brick of a book (2.3 kg) you get answers on everything – and more on the theme; from Allan Williams's decision to bring business partner Lord Woodbine to the northern German city on January 22, 1960 until the day the Beatles left Hamburg for the last time on June 27, 1966. There are details in the book that make this a paradise for us Beatles nerds, e.g. the train journey between Hamburg and Liverpool Lime street (as John Lennon presumably went on in December 1960); departure 03:20 – arrival 02:00 the next day, with train changes, ferry times, taxi in London…
The author, Thorsten Knublauch, born 1969 in Berlin, has published a couple of books on the theme earlier. He is also a consultant for Mark Lewisohn and his Tune In project, and has contributed info to several books, fanzines and blogs. Knublauch has had access to a limitless amount of documents – public, private, printed, handwritten letters and receipts, pictures, posters, and it looks like if everything has been included in this book. It is thoroughly illustrated, to say the least, on each page, in both black and white and color – several photos beautifully hand-colored. In addition, the author has interviewed several of those who were there there at the time.
Speaking of Tune In; Knublauch has been able to document things more thoroughly and in detail than Lewisohn could ever do in his books. For example: What happened in the time between the last the performance at Kaiserkeller on November 30 and John Lennon's arrival in Liverpool on December 8, 1960? The topic is discussed over 26 pages in the book. And why is a bass drum with a Beatles logo on it the stage at Top Ten Club along with Rory Storm and Tony Sheridan in a photo taken early in December 1960? Did Lennon play in the Top Ten after the others had gone? By the way, did you know that Stuart Sutcliffe was loaned out as bassist to half (!) of Derry and the Seniors in the Kaiserkeller while the Beatles were still struggling in the Indra? Already then Paul McCartney had to step in as a bassist. In addition to the Beatles stories, both Stuart Sutcliffe and Pete Best received a chapter each. Stuart's participation in the Bats and his life – and death. Pete's appearances, both with Lee Curtis, the Original All-Stars and the Pete Best Four. It would be too much to cover all the topics in the book in a short review like this. I am attaching a picture of the table of contents, so you can check it. The book's layout is more like a fanzine than something a University would want to publish, but it fills the need and rarely before the topic has been documented so extensively in one book. I do miss a name and topic index, though. There is a lot of flipping back and forth to find  the goodies. Do not be intimidated by it. For anyone looking for gold, this is Klondike.
6 May 2021 – Watch the unboxing of The Beatles Mach Schau In Hamburg book by one of our customers