Description
The Beatles Mach Schau in Hamburg – Now available!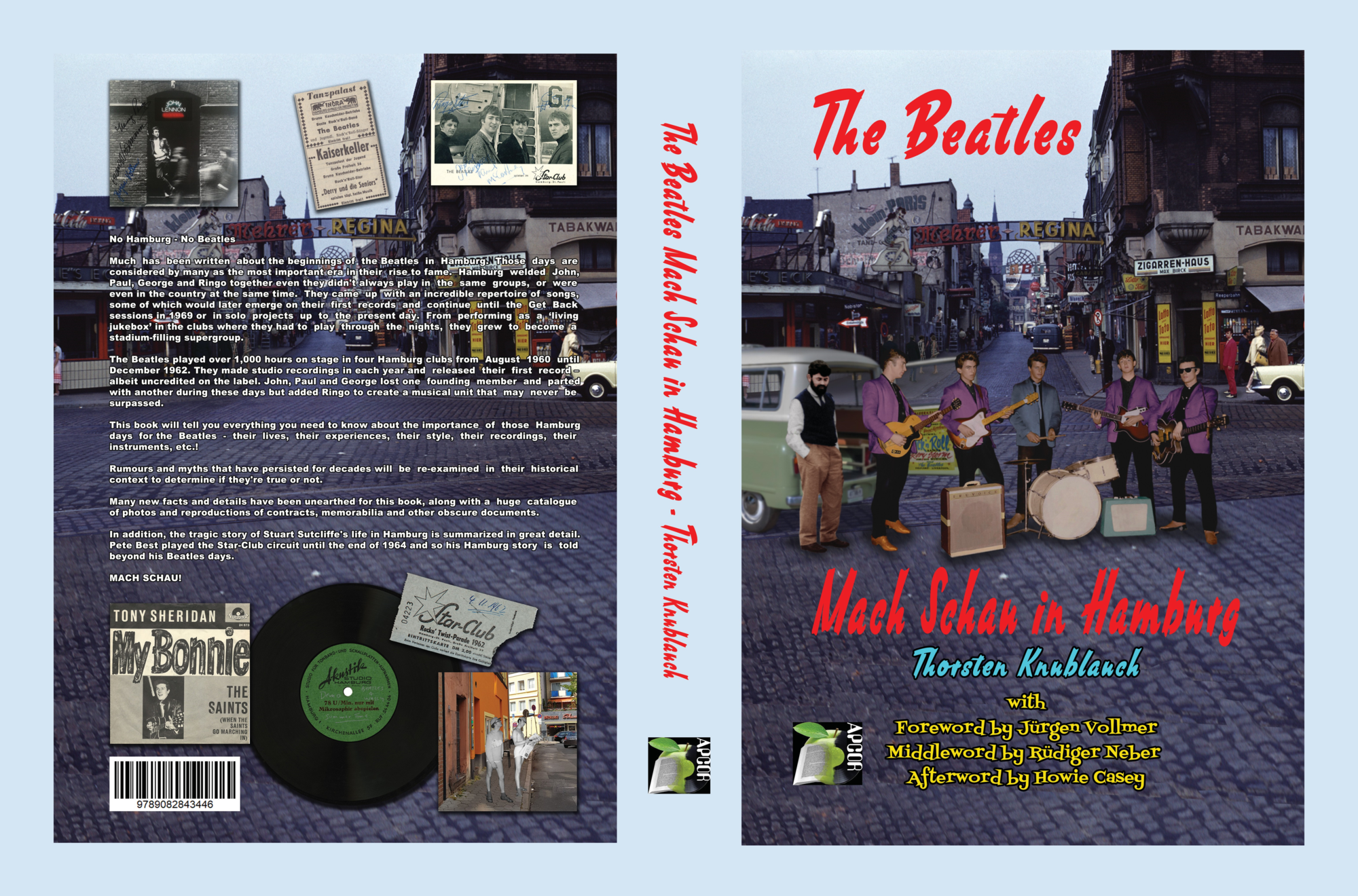 (ISBN 9 789082 843446)
This book is called THE BEATLES MACH SCHAU IN HAMBURG and it is written by the author who is generally regarded as the number one expert when it comes to all things Beatles in their pre-fame Hamburg period, Thorsten Knublauch. Thorsten has lent his knowledge to various publications, including Mark Lewisohn's Tune In book and this book is the culmination of over 30 years of work Thorsten has invested in this very interesting and generally underrated phase of the Beatles' early career. So there is absolutely no one better qualified to write such a book, and what a book it has become! With a foreword by Jürgen Vollmer, the famous photographer who, along with Astrid Kirchherr took those iconic shots of the Beatles and invented their haircut, a middleword by Rüdiger Neber, member of The Bats with whom Stuart Sutcliffe performed a few gigs and an afterword by Howie Casey, saxophonist who played on several of Paul McCartney's albums and world tours and also performed in Hamburg in the 1960s alongside The Beatles.
No Hamburg – No Beatles
 Much has been written about the beginnings of the Beatles in Hamburg. Those days are considered by many as the most important era in their rise to fame. Hamburg welded John, Paul, George and Ringo together even if they didn't always play in the same group, or were even in the country at the same time. They came up with an incredible repertoire of songs, some of which would later emerge on their first records and continue until the Get Back sessions in 1969 or in solo projects up to the present day. From performing as a 'living jukebox' in the clubs where they had to play through the nights, they grew to become a stadium-filling supergroup. The Beatles played over 1,000 hours on stage in four Hamburg clubs from August 1960 until December 1962. They made studio recordings in each year and released their first record – albeit uncredited on the label. John, Paul and George lost one founding member and parted with another during these days but added Ringo to create a musical unit that may never be surpassed. This book will tell you everything you need to know about the importance of those Hamburg days for the Beatles – their lives, their experiences, their style, their recordings, their instruments, etc.! Rumours and myths that have persisted for decades will be re-examined in their historical context to determine if they're true or not. Many new facts and details have been unearthed for this book, along with a huge catalogue of photos and reproductions of contracts, memorabilia and other obscure documents. In addition, the tragic story of Stuart Sutcliffe's life in Hamburg is summarized in great detail. Pete Best played the Star-Club circuit until the end of 1964 and so his Hamburg story is told beyond his Beatles days.
 THE BEATLES MACH SCHAU IN HAMBURG!
540 pages, A4 Size, hardback, full colour with 600 illustrations; never before seen photos, documents, adverts, memorabilia, record covers, newspaper reports, reproductions of contracts, letters, bills, receipts, etc. etc. In-depth stories about the recordings made in Germany, histories of all the places they played, even exclusive picture of their 1966 concerts, this is THE definitive book on the Beatles' visits to Germany.
A promotional video for the book can be watched here:
Sample pages can be watched here:
Please note that we will ship to the address supplied to us by PayPal, so make sure your PayPal address is always updated! We can not be held responsible for shipping to an obsolete address if you have not updated it in your PayPal profile!